Zoom takes over KIT spin-off kites
Zoom takes over KIT spin-off kites
KIT computer scientists are experts in real-time speech recognition and translation - kites team to help improve Zoom's machine translation.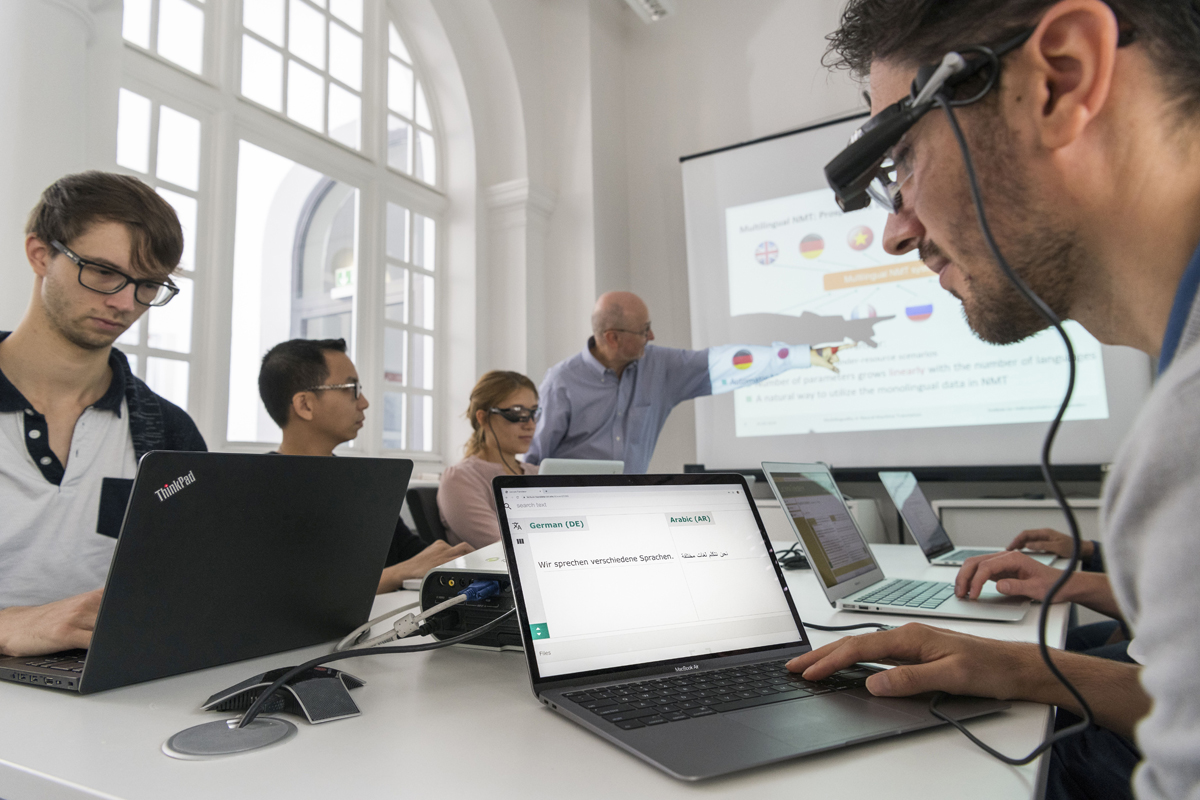 Simultaneous language translation bridges language barriers (Photo: Markus Breig, KIT)
US-based Zoom Video Communications is acquiring kites GmbH, a spin-off from the Karlsruhe Institute of Technology (KIT) that specialises in the development of real-time machine translation solutions. Zoom made the announcement this afternoon (29/06/2021). Zoom will also invest in further research at the Karlsruhe site and is also considering establishing a research and development site in Germany.
"How enormous the importance of intelligent, powerful information and communication technologies is for our working world and our everyday life has been clearly demonstrated to us not least by the Corona pandemic. KIT researchers have been working on suitable speech technologies for many years, which the kites team has successfully brought into application," said KIT President Professor Holger Hanselka. "The fact that Zoom is now acquiring this spin-off and driving the expansion of the team in Karlsruhe is a consistent step that opens up these promising solutions to many people. Investing in further research in Karlsruhe is a big win for KIT, the city, and the Karlsruhe region."
"Developing applications for the economy and society from scientific findings is one of the core tasks of KIT. The kites GmbH has succeeded in doing exactly that in an impressive way; it is a very good example of the innovative activity of our researchers," says Professor Thomas Hirth, Vice President for Innovation and International Affairs of KIT. "With such solutions, international understanding can be promoted, networking strengthened, and borders overcome."
The two kites shareholders Professor Alexander Waibel and Dr. Sebastian Stüker work on application-ready products that automatically process natural and spontaneous speech using artificial intelligence methods. They founded kites in 2015 with the aim of integrating their research results into real applications. Areas of work include automatic speech recognition, machine translation, language assistance, technical support for human interpreters and simultaneous language translation. The kites team consists of twelve researchers and will support Zoom's engineering team in the future. Together, they aim to advance machine translation and provide multilingual translation capabilities to make meetings more productive and efficient for Zoom users.
"We founded kites with the goal of breaking down language barriers and making cross-language interactions a real part of our everyday lives. For a long time, we've valued Zoom for its ability to easily connect people around the world," said Alexander Waibel, computer science professor at KIT and co-founder of kites. "We know that Zoom is the best partner for kites to realize our goals. We look forward to now advancing our developments together with Zoom as a driver of innovation."
"We are primarily interested in bringing our know-how into application-ready products that automatically process natural language. In this context, our technologies are particularly specialized in real-time applications," explains Sebastian Stüker, founder and CEO of kites as well as head of the junior research group Multilingual Speech Recognition at KIT. "For example, they enable automatic, simultaneous language translation as software as a service or automatic subtitling of videos in many languages. This makes it an ideal fit for Zoom's services."
Waibel and Stüker's work builds, among other things, on the Lecture Translator they developed, which has been bridging language barriers for international students with simultaneous lecture translations at KIT since 2012.
Stüker and the kites staff will remain based in Karlsruhe, where Zoom will invest in expanding the team. Zoom is also considering establishing a research and development site in Germany. As a Zoom Research Fellow, Alexander Waibel will provide advisory support for research and development in machine translation at Zoom.