Best Paper Award für Forschung im Bereich zuverlässiger Nanotechnologie
author:

Kerstin Fröhlich

date:

15.11.2017
Best Paper Award für Forschung im Bereich zuverlässiger Nanotechnologie
Im Rahmen der 27. "International Conference on Field-Programmable Logic and Applications" im September 2017 in Belgien wurden Informatiker vom KIT mit dem Stamatis Vassiliadis Award ausgezeichnet und mit einem Preisgeld von 500€ für ihre Forschung belohnt. Dennis Gnad, Fabian Oboril und Mehdi Tahoori vom Chair of Dependable Nano Computing (CDNC) reichten hierzu ihre Arbeit zu "Voltage Drop-based Fault Attacks on FPGAs using Valid Bitstreams" ein.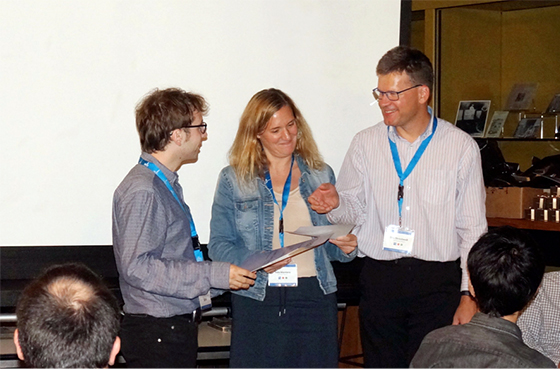 Preisübergabe in Belgien. V.l.n.r.: Dennis Gnad (KIT), Nele Mentens (KU Leuven) und Dirk Stroobandt (Ghent University).

Field-Programmable Gate Arrays (FPGAs) sind eine bestimmte Art von Chips, die zum Beschleunigen von Rechenoperationen verwendet werden können. Erst über die letzten Jahre "lohnt" sich das auch im Vergleich zu anderen Beschleunigern wie beispielsweise dem Rechnen mit Grafikkarten. Unter anderem benutzen auch schon Microsoft und Amazon FPGAs in ihrer Cloud. Fast jede Suchanfrage in "bing" wird durch FPGAs beschleunigt und Amazon bietet beliebigen Kunden Zugriff auf FPGA-Beschleuniger an. Weiterhin gibt es für eingebettete Systeme schon Chips, in denen FPGAs zusammen mit normalen CPUs integriert sind. Langfristig sollen auch Endnutzer bzw. deren Apps Zugriff auf FPGA-Logik bekommen.

Innerhalb dieser nun ausgezeichneten Veröffentlichung hat die Forschungsgruppe der KIT-Fakultät für Informatik gezeigt, dass Systeme mit FPGAs auch neuartigen Sicherheitsproblemen ausgesetzt sein können. Allein mit dem Quellcode für FPGAs (geschrieben in der Hardwarebeschreibungssprache "VHDL") lassen sich so "Denial of Service"-Angriffe ausführen, die ein gesamtes System zum Absturz bringen können. Dies funktioniert durch die Ausnutzung von Resonanzfrequenzen der untersten elektrischen Ebene und man benötigt lediglich den Software-Zugriff auf einen geringen Teil der FPGA-Logik. Der Angriff könnte also auch in normalen Anwendungen versteckt werden. Der "gecrashte" Zustand kann nur dadurch regeneriert werden, dass das jeweilige System stromlos gemacht wird. In einem Server oder PC bedeutet das nicht nur einen Neustart, sondern auch das Ausschalten des Netzteils selbst. In einem mobilen System könnte es also bedeuten den Akku entfernen zu müssen. Da in Servern das "power cyclen" (komplett stromlos schalten und wieder anschalten) aufwändig sein kann und in mobilen Systemen Akkus oft fest eingebaut werden, bespricht die Veröffentlichung auch mögliche erste Ansätze, die Angriffe dieser Art verhindern sollen.