secUnity-Workshop zu "Artificial Intelligence and Cybersecurity" in Brüssel
author:

place:

date:

14.02.2019
secUnity-Workshop zu "Artificial Intelligence and Cybersecurity" in Brüssel
In dem secUnity Workshop diskutierten am 5. Februar 2019 in Brüssel VertreterInnen der EU mit WissenschaftlerInnen zum Thema "Artificial Intelligence and Cybersecurity"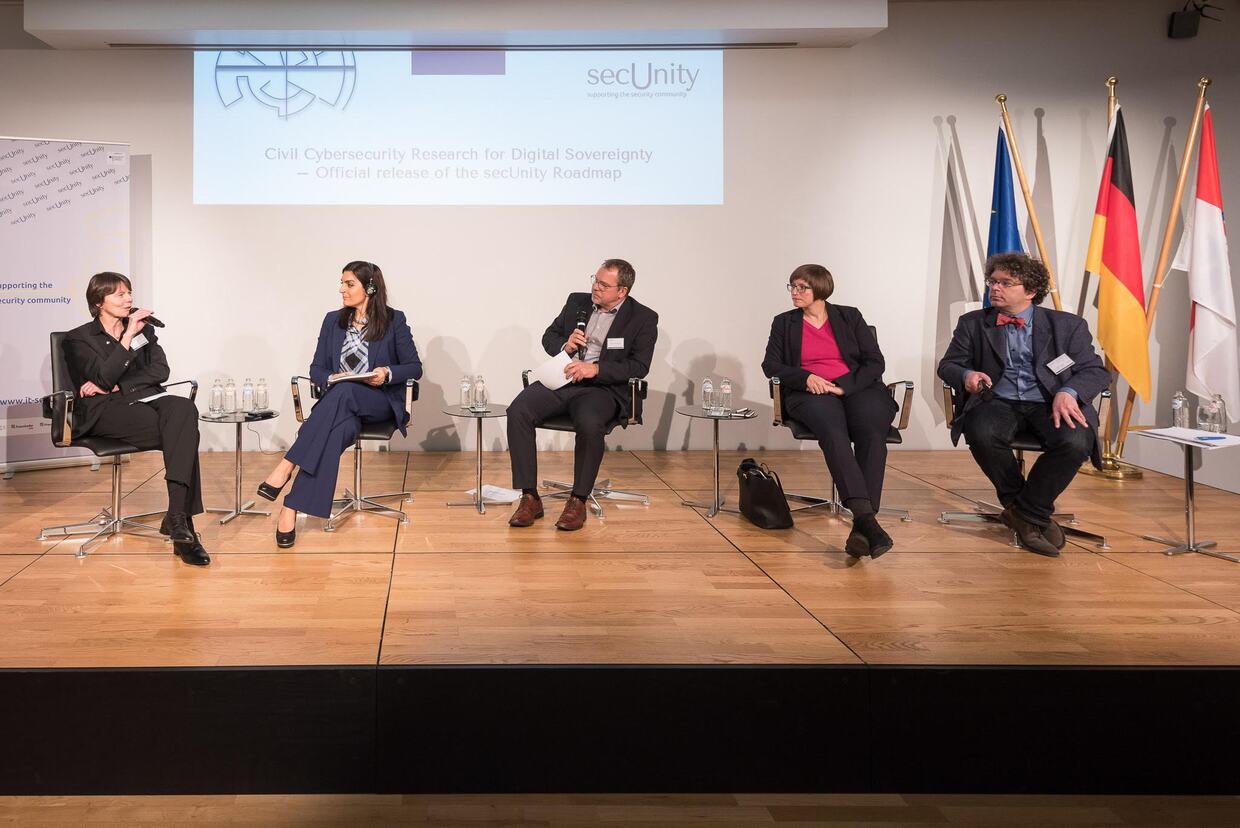 Am Nachmittag des 5. Februar 2019 organisierte das BMBF-Verbundprojekt secUnity einen Workshop zu "Artificial Intelligence and Cybersecurity" in der Vertretung des Landes Hessen bei der Europäischen Union. In ihrer Keynote vor den ca. 70 Gästen betonte MdEP Mady Delvaux-Stehres, die stellvertretende Vorsitzende des Rechtsausschusses des Europäischen Parlaments, die Wichtigkeit von Grundlagenforschung, Standards aber auch Sensibilisierung der NutzerInnen für zukünftige KI-Systeme.
Im Rahmen dieses wissenschaftlichen Workshops mit Zeit für offene Diskussionen stellte Prof. Thorsten Holz von der Ruhr-Universität Bochum den theoretischen Hintergrund für Cybersicherheit und KI-Systeme vor. Danach setzte sich Ninja Marnau, Senior Researcher am CISPA, kritisch mit der Rolle von KI im Erkennen und Filtern von "Fake News" auseinander. Beide Themen sind zentrale Inhalte der secUnity-Roadmap "Cybersecurity Research: Challenges and Course of Action", die im Anschluss an den Workshop im Rahmen der Veranstaltung "Zivile Cybersicherheitsforschung für digitale Souveränität" feierlich an die Europäische Agentur für Netzwerk und Informationssicherheit ENISA übergeben wurde.
In secUnity arbeiten IT-SicherheitsexpertInnen aus ganz Deutschland zusammen. Beteiligt sind, neben den drei nationalen Kompetenzzentren KASTEL, CRISP und CISPA, Spezialisten der TU Darmstadt, der Ruhr-Universität Bochum und der Fraunhofer-Institute AISEC und SIT.
Weitere Informationen zur Roadmap und den Download-Link finden Sie hier: https://it-security-map.eu/de/roadmap/secunity-roadmap/