Algorithmik-Elite trifft sich in Karlsruhe
Flexible Computer, Stoffwechselprozesse und Verkehrsmanagement bei der ALGO 2008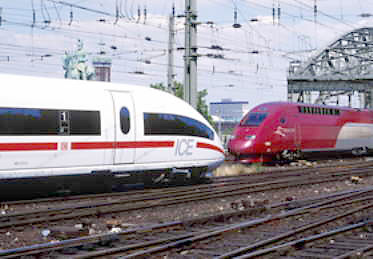 Den öffentlichen Verkehr koordinieren: eines der Themen bei der ALGO 2008
Foto: Universität Karlsruhe

Die Algorithmik als Forschungsgebiet der Informatik entwickelt grundlegende Methoden zum effizienten Einsatz von Computern. Ohne sie wären etwa die Sequenzierung des menschlichen Genoms, eine effiziente Suche im Internet sowie die Routenplanung im Internet oder mit Navigationssystemen nicht denkbar. Vom 15. bis 19. September 2008 findet am Karlsruher Institut für Technologie (KIT) mit der ALGO 2008 die wichtigste Konferenz zu Algorithmen in Europa statt.

Die Lehrstühle von Professorin Dorothea Wagner und Professor Peter Sanders des Instituts für Theoretische Informatik organisieren die Veranstaltung. Zu den vier Teilkonferenzen erwartet das KIT bis zu 300 Experten aus aller Welt. Dabei beschäftigt sich das "European Symposium on Algorithms (ESA)" mit allgemeinen Fragestellungen. Beim "Workshop on Algorithms in Bioinformatics (WABI)" stehen Algorithmen in der Biologie im Mittelpunkt, während der "Workshop on Approximation and Online Algorithms (WAOA)" sich um Algorithmen dreht, die sehr schwierige Probleme zumindest näherungsweise lösen können. Schließlich wird sich der "Workshop on Algorithmic Approaches for Transportation Modeling, Optimization, and Systems (ATMOS)" mit Algorithmen zur Verbesserung öffentlicher Verkehrsmittel befassen: Sie können zu einem effektiven Verspätungsmanagement beitragen, beispielsweise um zu entscheiden, welcher Zug warten sollte.

Eine Reihe international angesehener Wissenschaftler werden Fachvorträgen halten, darunter Leslie Valiant von der Universität Harvard. Er hat als erster eine solide Grundlage für lernfähige Computer geschaffen, die flexibler als die traditionellen Programme mit ihrem minutiös vorgeschriebenen Verhalten sind. In aktuellen Forschungen beschäftigt sich Valiant mit einem Modell, das die effiziente Programmierung von Mehrkernrozessoren erleichtert. Mark Overmars von der Universität Utrecht arbeitet daran, dass sich Roboter und Spielfiguren flexibel in komplexen Umgebungen bewegen können. Eytan Ruppin von der Universität Tel Aviv bildet Stoffwechselprozesse im Computer ab und legt damit unter anderem die Grundlagen zum Verständnis vieler Krankheiten. Rolf Möhring von der TU Berlin beschäftigt sich mit der Optimierung vielfältiger Prozesse, zum Beispiel bei der Erstellung besserer U-Bahn-Fahrpläne, die geringere Umsteigezeiten ermöglichen sollen oder mit einem kleineren Fahrzeugpark auskommen.
Weitere Informationen und ein ausführliches Tagungsprogramm erhalten Sie unter http://algo2008.org/doku.php/ .