»Sie haben Post!«
Die erste Internet E-Mail erreichte vor 35 Jahren Karlsruhe

In diesem Jahr dürfen wir uns nicht nur über das 50-jährige Jubiläum des Studiengangs Informatik freuen, sondern feiern auch die technische Revolution der 1. E-Mail. Denn vor genau 35 Jahren ging die erste E-Mail an der Universität Karlsruhe (TH), dem heutigen Karlsruher Institut für Technologie (KIT) ein.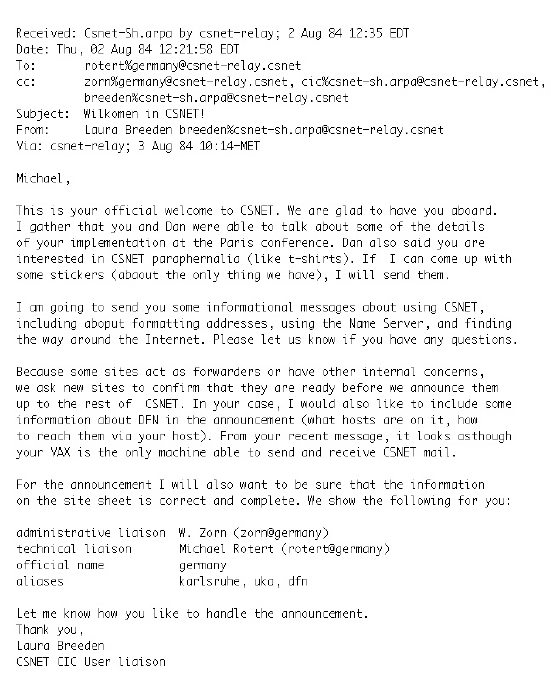 Die erste Internet E-Mail Deutschlands erreichte Professor Werner Zorn und seinen Mitarbeiter Michael Rotert am 03.08.1984 um 10.14 Uhr mitteleuropäischer Zeit. In ihr begrüßt Laura Breeden vom Massachussetts Institute of Technologie (MIT) in Boston die deutschen Wissenschaftler im CSNET, einem der Vorläufer des heutigen Internets. Deutschland war damit das zweite Land außerhalb der USA, das mit dem Internet verbunden wurde.
Der Präsident des KIT, Professor Holger Hanselka, äußerte sich 2014 im Rahmen des 30-jährigen Jubiläums zu diesem Ereignis: "Die erste E-Mail in Karlsruhe war der Vorbote einer enormen technologischen und gesellschaftlichen Veränderung. Die schnelle Kommunikation hat unsere Welt zusammenwachsen lassen und den grenzüberschreitenden Austausch von Ideen und Perspektiven ermöglicht. Ein gelungenes Beispiel von Forschung und Technologietransfer, die unseren Alltag erreichen." Doch damals war noch nicht abzuschätzen, wie rasant sich die E-Mail zu einem der wichtigsten Kommunikationsmedien unserer heutigen Zeit entwickeln würde. Insbesondere die wirtschaftliche Bedeutung habe damals niemand einschätzen können, bestätigt auch Zorn, mittlerweile Universitätsprofessor im Ruhestand und Mitglied der Internet Hall of Fame: "Wir haben das aus Entdeckerfreude gemacht und nicht an Geld gedacht", sagt er. "Zwar haben Zeitungen damals darüber berichtet, aber es lief eher unter dem Label ,Exotenwissenschaft'."
Damit ebneten die Karlsruher Wissenschaftler den Siegeszug für die massive Verbreitung des E-Mail-Wesens vor 35 Jahren, wodurch die Stadt Karlsruhe noch heute als Internethauptstadt Deutschlands bezeichnet wird.
Weiterführende Informationen zur Geschichte der ersten E-Mail: