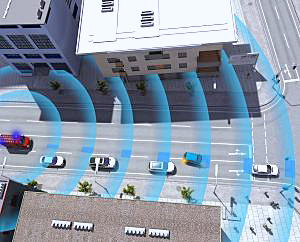 Intelligente Szenarien, neue Dienstleistungen
KIT-Schwerpunkt COMMputation verbindet Kommunikation und Computertechnologie – Gründungsfeier am 12. November 2009
Die Verbindung von Kommunikation und Computertechnologie verändert die Welt. Wissenschaftlerinnen und Wissenschaftler am Karlsruher Institut für Technologie wollen diesen Fortschritt in einem neuen KIT-Schwerpunkt verstehen und mitgestalten. Und treten unter einem Namen an, der verdeutlicht, wie eng die Beziehung von Kommunikation und Computertechnologie ist, wie groß ihre Bedeutung: COMMputation. Am 12. November feiert der KIT-Schwerpunkt seine Gründung.

Bei der Gründungsveranstaltung am Donnerstag, 12. November, 16 Uhr, im Tulla-Hörsaal (Englerstraße 11, Geb. 11.40) wird der Sprecher, Professor Hartmut Schmeck, den KIT-Schwerpunkt COMMputation vorstellen. Höhepunkte sind dann Vorträge von Prabhakar Raghavan von den Yahoo! Labs und des Turing-Award Preisträgers Edmund Clarke von der Carnegie Mellon University.

Von zentraler Bedeutung für die COMMputation-Forschung ist ein technologischer Fortschritt, der die Welt verändert: Der Mensch ist umgeben von einer wachsenden Anzahl intelligenter Geräte, die Objekte in seiner Nähe befähigen zu interagieren, ihr Umfeld wahrzunehmen und sich ständig auf neue Anforderungen einzustellen. Je intensiver sie miteinander und mit dem Menschen kommunizieren sollen, desto komplexer und zugleich transparenter, desto genauer und zugleich beherrschbarer müssen die Rechenvorgänge sein, die im Hintergrund laufen. Dafür braucht es intelligente Lösungen – daran arbeiten die KIT-Wissenschaftlerinnen und -Wissenschaftler, indem sie ihre Kompetenz auf fünf Gebieten kombinieren: eOrganization and Service Engineering, Grid and Scientific Computing, Algorithm and Software Engineering, Communication Technology sowie Systems Engineering.

In zahlreichen größeren Forschungsprojekten entwickeln die Wissenschaftlerinnen und Wissenschaftler um Professor Schmeck Konzepte, IT-Architekturen, Methoden und Werkzeuge für ausgewählte Szenarien wie intelligente Häuser, intelligente Autos oder intelligente Marktplätze. "Die zukünftig stark vernetzten und anpassungsfähigen Systeme und Dienstleistungen müssen trotz ihrer Komplexität ein vertrauenswürdiges, robustes und effizientes Verhalten garantieren können", so Schmeck.

Die Feier zur Gründung des KIT-Schwerpunkts COMMputation ist eingebettet in den Fakultätentag Informatik, der am 12. und 13. November stattfindet.