Fakultätentag Informatik zeichnet KIT-Studentin für ihre Diplomarbeit aus
author:

Barbara Dörrscheidt

date:

27.01.2010
Fakultätentag Informatik zeichnet KIT-Studentin für ihre Diplomarbeit aus
Erstmalige Vergabe des Preises für herausragende Abschlussarbeiten von Frauen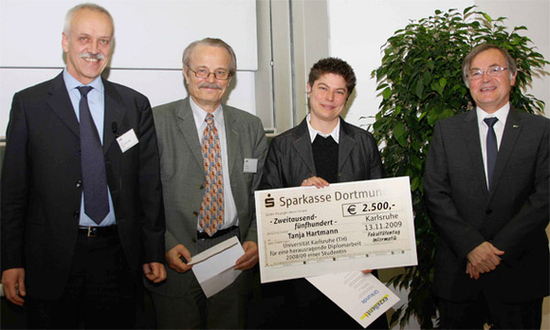 v. l. n. r.: Prof. Hans-Ulrich Heiß (Vorsitzender des FTI), Prof. Manfred Nagl (Stellv. Vorsitzender des FTI), Preisträgerin Tanja Hartmann, Prof. Heinz Wörn (Dekan der Fakultät für Informatik am KIT)
Foto: Axel Fischer

Im Rahmen des Fakultätentages Informatik erhielt die Karlsruher Informatikerin und Mathematikerin Tanja Hartmann den mit 2500 € dotierten Preis für die beste Abschlussarbeit einer Studentin. Damit vergab der Fakultätentag erstmals einen Preis, der ausschließlich die Leistungen von Frauen berücksichtigt, die in der Informatik nach wie vor stark unterrepräsentiert sind. Bundesweit konnte jede Hochschule nur eine einzige Arbeit einreichen.
Hartmanns Diplomarbeit mit dem Titel "Clustering Dynamic Graphs with Guaranteed Quality" behandelt ein grundlegendes Graphenproblem, das etwa bei der Analyse großer Netze wie dem Internet, bei sozialen Netzwerken oder aber auch bei biologischen Netzen auftritt. Basierend auf einem speziellen Verfahren zur Berechnung von Clusterungen auf der Grundlage von so genannten Schnittbäumen gelang es ihr, eine vollständige Dynamisierung zu entwickeln, theoretisch zu analysieren und deren Praktikabilität experimentell nachzuweisen. Die Auswahlkommission würdigte insbesondere die Tiefe der Arbeit, ihren Beitrag zur Forschung und die Relevanz der Ergebnisse.
Inzwischen ist aus einem Teil der Diplomarbeit eine Veröffentlichung entstanden, die bei der Konferenz »WADS – Algorithm and Data Structures Symposium 2009« angenommen wurde. Die WADS ist eine der wichtigsten internationalen Konferenzen im Bereich Algorithmen und Datenstruktur.
Tanja Hartmann hat ihr Doppeldiplom der Informatik und der Mathematik erfolgreich abgeschlossen und promoviert seit August 2009 am Institut für Theoretische Informatik.
Der Fakultätentag Informatik (FTI) war vom 12. bis zum 13. November 2009 am KIT zu Gast. Besonderes Highlight war die Vorstellung des KIT-Schwerpunktes COMMputation (www.commputation.kit.edu), der sich mit der Verknüpfung von Kommunikation und Informationsverarbeitung in komplexen technischen Systemen befasst, die zunehmend unsere Lebens- und Arbeitswelt durchdringen.