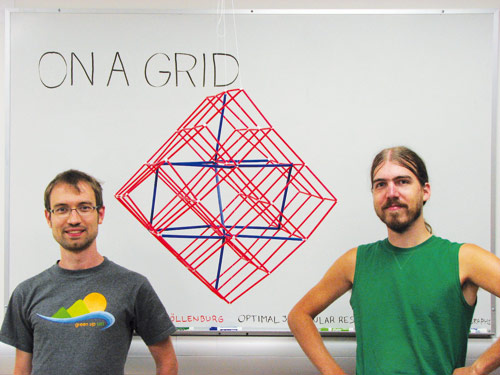 Graph Drawing
KIT-Informatiker gewinnt internationalen Wettbewerb im Zeichnen von Graphen

Martin Nöllenburg, Leiter einer Forschungsgruppe am Institut für Theoretische Informatik, hat gemeinsam mit seinem Teamkollegen Maarten Löffler von der University of California, Irvine, die Graph Drawing Challenge 2010 gewonnen.
Der Wettbewerb fand Ende September im Rahmen des 18. International Symposium on Graph Drawing in Konstanz statt.
Die 15 teilnehmenden Teams mussten innerhalb einer Stunde sechs verschiedene Graphen zeichnen. Punkte erhielten sie für die Qualität der Zeichnungen im Vergleich zur optimalen Zeichnung. Zwei weitere Teams des KIT belegten die Plätze vier und sechs.
Graph Drawing ist ein Forschungsgebiet der Informatik, das sich mit der Entwicklung von Algorithmen zur automatischen visuellen Darstellung von Daten in Form von Graphen beschäftigt. Visualisiert werden etwa soziale Netze, Infrastrukturnetze oder auch Netze zur Repräsentation von Softwaresystemen.
Martin Nöllenburg studierte an der Universität Karlsruhe Informatik und promovierte 2009. Er war von Januar bis August 2010 zu Gast an der University of California Irvine und leitet seit Oktober 2009 die Young Investigator Group "Algorithmen zur Geovisualisierung" am Institut für Theoretische Informatik des KIT.