Exzellenzinitiative II: Fakultät für Informatik mit zwei Neuanträgen in der Endrunde
author:

Barbara Dörrscheidt

date:

02.03.2011
Exzellenzinitiative II: Fakultät für Informatik mit zwei Neuanträgen in der Endrunde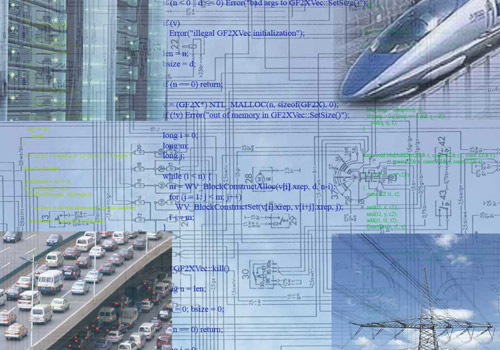 Zur optimalen Nutzung kritischer Infrastrukturen wie Energie- oder Verkehrsnetzen sind hochverlässliche Softwarelösungen unabdingbar. (Bild: KIT)
Die Fakultät für Informatik des KIT geht mit zwei Neuanträgen in die Endrunde der Exzellenzinitiative II. So wird zum einen das Exzellenzcluster "Verlässliche Software für Kritische Infrastrukturen" sowie die Graduiertenschule "Karlsruhe School of Informatics Engineering" Vollanträge stellen.
Die Entscheidung, welche Initiativen mit ihren Skizzen die erste Hürde genommen haben, gab die Gemeinsame Kommission der Deutschen Forschungsgemeinschaft (DFG) und des Wissenschaftsrates am 2. März in Bonn bekannt.
Die "Karlsruhe School of Informatics Engineering" (KSIE) - Karlsruher Graduiertenschule für Informatik-Ingenieurwesen ist eine Initiative des KIT-Schwerpunkts COMMputation. KSIE verfolgt einen stark interdisziplinären Ansatz. Die Forschung der jungen Wissenschaftlerinnen und Wissenschaftler wird sich besonders auf die Wechselwirkungen von Informatik und anderen Ingenieursdisziplinen konzentrieren. Informatik-Ingenieurwesen wird dabei verstanden als wechselseitiger Austausch von Prinzipien, Methoden und Modellierungsansätzen der beteiligten Disziplinen. Neben der Informatik sind dies vor allem die Elektrotechnik und der Maschinenbau, aber auch das Wirtschaftsingenieurwesen.
Das Exzellenzcluster "Dependable Software for Critical Infrastructures" (DSCI) - "Verlässliche Software" verbindet Aktivitäten aus dem KIT-Schwerpunkt "COMMputation" mit der Arbeit der KIT-Zentren Energie und Mobilitätssysteme. Der Forschungscluster strebt die Entwicklung von verlässlicher Software für sogenannte virtualisierte, also dezentrale, selbstorganisierte und anpassungsfähige, Infrastrukturen an. Dies ist gerade in komplexen Bereichen wie Energie, Verkehr und EDV entscheidend, um Fehler und Ausfallrisiken zu minimieren und dadurch für die Gesellschaft wichtige Funktionssysteme zu optimieren.
Neben den Initiativen aus der Informatik nahm außerdem ein weiterer Neuantrag des KIT für eine Graduiertenschule zur Elementar- und Astroteilchenphysik die erste Hürde im Wettbewerb. Insgesamt wählte die Kommission der DFG und des Wissenschaftsrates 59 Projekte aus 227 Bewerbungen von 32 Universitäten aus.
Bis zum 1. September müssen nun ausführliche Förderanträge gestellt werden, um damit in den Wettbewerb mit den bereits geförderten 85 Einrichtungen der Exzellenzinitiative zu gehen. Im Juni 2012 fällt die endgültige Entscheidung.