Prof. Rüdiger Dillmann wird IEEE Fellow
Hohe Auszeichnung des Institute of Electrical and Electronics Engineers (IEEE) für den Kalrsruher Robotiker.


Prof. Rüdiger Dillmann wurde vom Institute of Electrical and Electronics Engineers (IEEE) für seine Leistungen auf dem Gebiet der Roboterprogrammierung und menschenzentrierte Technologien zum IEEE Fellow ernannt. Der Titel des Fellow ist eine der höchsten Auszeichnungen des IEEE, die nur Mitgliedern zuteil wird, die einen herausragenden Beitrag zu technologischem Fortschritt und wissenschaftlichem Erkenntnisgewinn geleistet haben.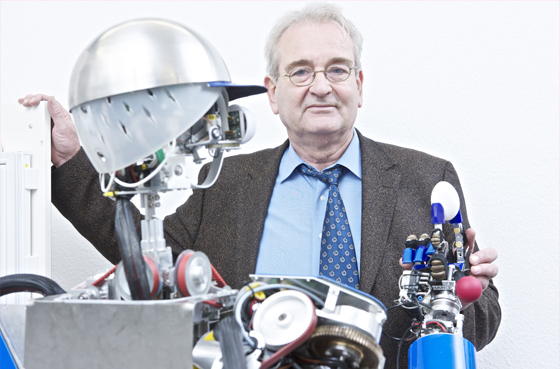 Bild: KIT

Das IEEE ist der weltgrößte Fachverband von Ingenieuren aus den Bereichen Elektro- und Informationstechnik und hat sich der Förderung technologischer Innovation zum Nutzen der Menschheit verschrieben. Die Vereinigung veranstaltet Fachtagungen und Konferenzen, ist Herausgeber verschiedener, wissenschaftlich anerkannter Fachzeitschriften und bildet Gremien für die Standardisierung von Techniken, Hardware und Software. Weltweit hat das IEEE mehr als 400.000 Mitglieder in über 160 Ländern, wovon jährlich nur etwa 0,1 % zum IEEE Fellow ernannt werden.

Prof. Rüdiger Dillmann ist Gründer und Leiter der Humanoids and Intelligence Systems Laboratories am KIT sowie Sprecher des KIT-Schwerpunkts Anthropomatik und Robotik. Außerdem ist er Teil des Direktoriums des Forschungszentrums Informatik (FZI) und leitet die dortige Abteilung Interaktive Diagnose- und Servicesysteme (IDS). Zusätzlich fungiert Dillmann als Koordinator des Sonderforschungsbereich 588 "Humanoide Roboter –
Lernende und Kooperierende Multimodale Roboter" sowie der Cognitive Systems Projekte Xperience. Seit Jahren ist er außerdem immer wieder Vorsitzender diverser Fachgruppen und Konferenzen.