Verleihung des ObjektForum Förderpreises
ObjektForum sucht kreative Ideen für IT-Innovationen
Das ObjektForum versteht sich bereits seit über 15 Jahren als Marktplatz für IT-Innovationen. Die Gründerfirmen andrena objects und der Technologiepark Karlsruhe sind bis heute Träger des ObjektForums und bieten jährlich mehr als 1000 Besuchern eine Plattform zum Austausch von Informationen und Erfahrungen. Heute lebt kaum eine Branche so sehr von neuen Ideen und kreativen Lösungen wie die IT-Branche. Daher werden Nachwuchswissenschaftler mit hervorragenden Abschlussarbeiten jedes Jahr mit dem ObjektForum Förderpreis ausgezeichnet.
In diesem Jahr fand die Preisverleihung am 09. Mai im Rahmen des Karlsruher Entwicklertages statt. Dabei werden die Arbeiten der Preisträger von einer sechsköpfigen Jury in zwei Kategorien ausgezeichnet.

In der Kategorie "Beispielhafte Anwendungen von Softwaretechnik innerhalb und außerhalb der Informatik" gab es gleich zwei Preisträger. Bastian Karweg hat in seiner Diplomarbeit mit dem Titel "Evolving Social Search using Social Bookmarks and Status Messages of Social Networks" untersucht, wie Informationen aus sozialen Netzwerken wie Facebook dabei helfen können eine bessere Internet-Suche zu ermöglichen. Sucht ein Nutzer beispielsweise nach dem Wort "Jaguar", so kann die Zusatzinformation, ob der Nutzer ein Autoliebhaber oder ein Tierfreund ist, von wichtiger Bedeutung sein und für ein genaueres Suchergebnis sorgen. Herr Karweg hat die Idee seiner Arbeit bereits in die Praxis umgesetzt und seine eigene Firma Echobot Media Technologies GmbH gegründet. "Mit Echobot haben wir diese Idee jetzt noch stark ausgeweitet und bieten derzeit für Firmenkunden die Analyse von eben solchen Artikeln und Meinungen von Nachrichtenseiten, Foren und Social-Media Konversationen an", erklärt Karweg.
Der zweite Platz in dieser Kategorie ging an die Master-Arbeit von Tobias Wüchner. Die Arbeit trägt den Titel "Implementation of Usage Control for Windows API" und hat zum Ziel Rechte und Pflichten im Bezug auf Datennutzungskontrolle für Microsoft Windows Betriebssysteme durchzusetzen. Hierbei soll kontrolliert werden, was nach einem initialen Zugriff auf Daten mit diesen passieren muss. Laut Wüchner wird dies durch das Unterbinden oder Modifizieren von Programmzugriffen auf Funktionen der Windows API erreicht, wenn diese zu einer Verletzung spezifizierter Rechte und Pflichten der Datennutzung führen.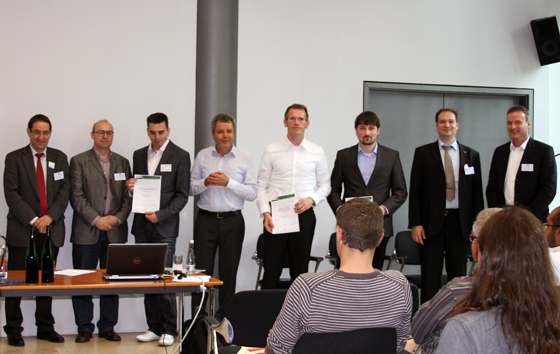 v.l.n.r: Prof. Dr. Andreas Oberweis (KIT), Dr. Michael Ranft (SWR), Bastian Karweg, Matthias Grund (andrena), Benjamin Klatt, Tobias Wüchner, Prof. Dr. Reussner (FZI), Hagen Buchwald (andrena)
In der zweiten Kategorie des ObjektForum Förderpreises "Grundlagen und Disziplin" gab es sogar drei Gewinner. Hier beschäftigt sich Benjamin Klatt in seiner Diplomarbeit "Modelling and Prediction of Event-Based Communication in Component-based Architectures" in der er das Forschungsprojekt "Palladio" der Forschungsgruppe um Informatikprofessor Ralf Reussner um weitere Komponenten erweitert hat. Weitere Preisträger waren Jonas Reinsch mit seiner Arbeit "Call-Graph-Mining-basierte Fehlerlokalisierung in mehrfädigen Programmen" und Qais Noorshams, der sich in seiner Diplomarbeit mit dem Thema "Focusing the Optimization of Software Architecture Models Using Non-Functional Requirements" auseinander gesetzt hat. Letztere verfolgt den Ansatz nicht-funktionale Anforderungen in einen automatisierten Optimierungsansatz für komponentenbasierten Software-Architekturmodelle zu integrieren, um die Optimierung auf zulässige Bereiche des Zielraums zu fokussieren. "Dies unterstützt es die Qualität der Software-Architektur zur Entwicklungszeit zu optimieren, um teure Neuentwicklungen zu einer späten Phase des Software-Entwicklungsprozesses zu vermeiden", so Noorshams.
Es konnten also auch in diesem Jahr wieder innovative Ansätze mit der Fördersumme von 1500 Euro ausgezeichnet werden, die teilweise bereits heute die Arbeit von Software-Entwicklern beeinflussen oder sicher noch beeinflussen werden.