Eindruck hinterlassen
Prof. Walter Tichy erhält ACM SIGSOFT Impact Paper Award für bedeutungsvollen Artikel.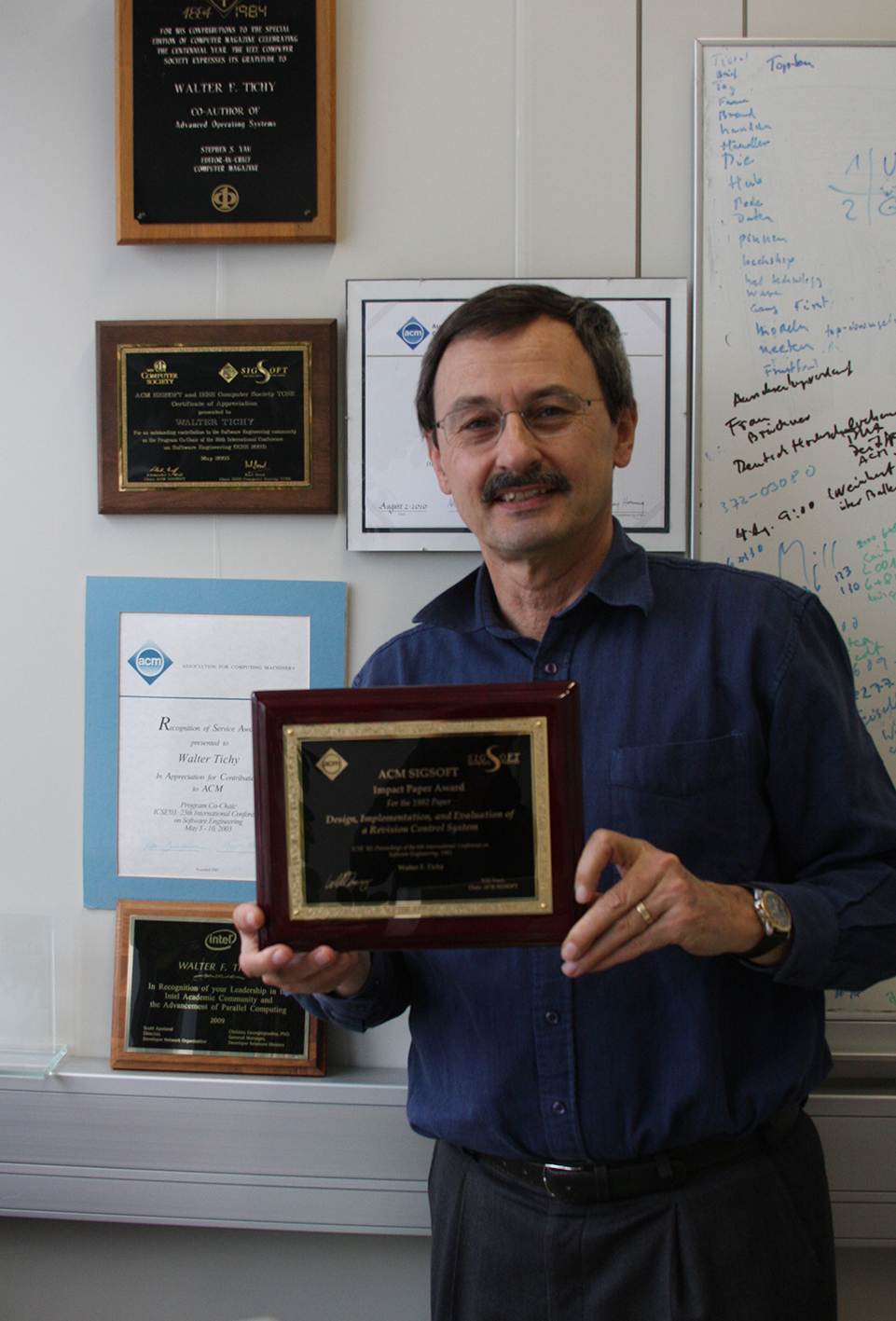 Prof. Walter Tichy erhält den ACM SIGSOFT Impact Paper Award für seinen Artikel "Design, Implementation, and Evaluation of the Revision Control System". Mit dem Award zeichnet die Association for Computing Machinery (ACM) jedes Jahr eine Publikation aus, die die Softwaretechnik nachhaltig beeinflusst hat. Die Veröffentlichung des Artikels auf einer SIGSOFT-Konferenz muss mindestens 10 Jahre zurückliegen, um die Wichtigkeit und den Einfluss des Papers richtig einschätzen zu können.
Die Auszeichnung des Artikels von Walter Tichy aus dem Jahr 1982 unterstreicht damit die Bedeutung der Publikation für das Software Engineering bis heute.

Mit dem Award ist ein Preisgeld von $1.000 verbunden sowie die Einladung, das Paper auf dem diesjährigen International Symposium on the Foundations of Software Engineering in einer Keynote zu präsentieren.

Bereits 1992 erhielt Tichy eine Auszeichnung für eine nachhaltig bedeutungsvolle Publikation: Für "Software Development Control Based on Module Interconnection" aus dem Jahr 1979 bekam er den Preis für das einflussreichste Paper der International Conference on Software Engineering.

SIGSOFT ist eine Special Interest Group für Softwaretechnik der weltweiten Informatik-Gesellschaft ACM. Die SIGSOFT möchte Informatikern aus Industrie, akademischer Welt und öffentlicher Hand ein Forum bieten um gemeinsam Grundsätze, Techniken und neue Forschungsergebnisse des Software Engineering zu diskutieren.