Eine Eins und drei Nullen
Eine Eins und drei Nullen
Die große runde Zahl ließ nicht allzu lange auf sich warten: Nachdem im Januar 2013 bereits 900 Doktorwürden gefeiert werden konnten, dauerte es nun nur noch knapp zwei Jahre bis zur ersten vierstelligen Zahl. Am 10. Dezember 2014 wurde der insgesamt 1000. Doktorgrad an der Fakultät für Informatik seit ihres Bestehens 1972 verliehen.
Inmitten der Gratulanten, konnten auch die Gutachterinnen Prof. Dr. Tanja Schulz und Prof. Dr. Marelie H. Davel den Diplominformatiker Tim Schlippe nach seiner erfolgreich absolvierten Promotionsprüfung beglückwünschen. Schlippe befasste sich in seiner Dissertation mit dem Thema "Rapid Generation of Pronunciation Dictionaries for new Domains and Languages" und verfasste seine Arbeit am Institut für Anthropomatik und Robotik beim Cognitive Systems Lab.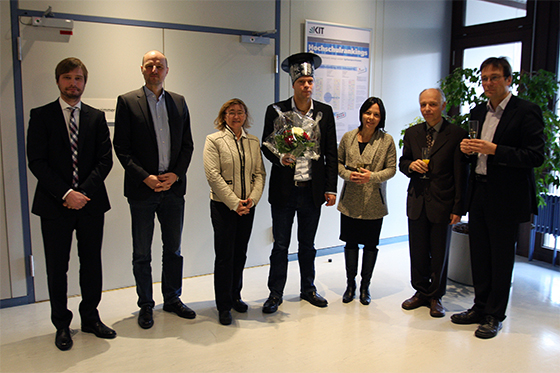 Bereits im Gründungsjahr 1972 verließ Helmut Hummel als erster Absolvent mit einem Doktortitel die Fakultät für Informatik. Die Anzahl der Promovierenden stieg seitdem Jahr für Jahr kontinuierlich an. Die Fakultät für Informatik verleiht mit der Promotion den akademischen Grad eines Doktors der Naturwissenschaften (Dr. rer. nat.) oder eines Doktors der Ingenieurwissenschaften (Dr.-Ing.). Traditionell werden alle Promovierten eines Jahres beim Tag der Informatik zum Abschluss des Sommersemesters feierlich verabschiedet.