Auszeichnung für Forschung im Bereich der Computerzuverlässigkeit
Informatiker Fabian Oboril gewinnt den E.J. McCluskey Doctoral Thesis Award
Im Rahmen seiner Promotionsarbeit hat Dr. Fabian Oboril von der Forschungsgruppe "Dependable Nano Computing" (CDNC) den diesjährigen E.J. McCluskey Doctoral Thesis Award des Test Technologies Technical Council (TTTC) gewonnen. Bereits im Mai diesen Jahres setzte er sich erfolgreich im europäischen Halbfinale des Wettbewerbs durch, das im Rahmen des European Test Symposiums ausgetragen wurde. Vergangene Woche wurde seine Arbeit im Finale von der Jury im Rahmen der weltweit führenden Fachtagung International Test Conference in Anaheim (Kalifornien) mit dem 1. Platz ausgezeichnet. Unter dem Titel "Cross-Layer Approaches for an Aging-Aware Design of Nanoscale Microprocessors" beschreibt Oboril dabei Ansätze um die Alterung von modernen Mikroprozessoren zu verlangsamen und somit deren Lebensdauer zu verbessern. Dies ist insbesondere für Anwendung im Bereich der Medizintechnik (z.B. Implantate) oder elektronische Steuereinheiten (z.B in Satelliten oder Flugzeugen) von großer Bedeutung, da diese sehr lange Einsatzzeiten benötigen. Hierzu werden in der Dissertation verschiedene Analyse-Plattformen sowie Modellierungsansätze präsentiert und neue Lösungsvorschläge für das Alterungsproblem auf unterschiedlichsten Abstraktionsebenen erläutert. Die Erkenntnisse die Fabian Oboril erarbeitete, überzeugten die internationale Jury. So konnte sich der Informatiker aus Karlsruhe gegen weltweite Konkurrenz hochrangiger Universitäten wie der Stanford University, der University of Texas at Austin oder der Duke University durchsetzen.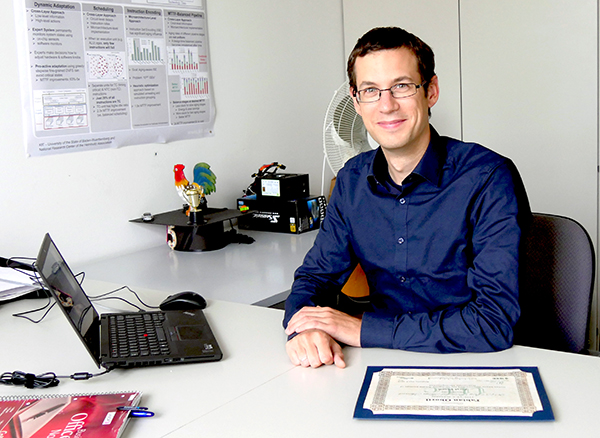 Dr. Fabian Oboril mit Urkunde in seinem Büro am Karlsruher Institut für Technologie (KIT)
Der E.J. McCluskey Doctoral Thesis Award des TTTC ist nach Prof. Edward J. McCluskey benannt, einem Vorreiter im Bereich der Test Technologie. Er verfolgt das Ziel die besten und ausschlaggebendsten Doktorarbeiten in diesem Themenfeld auszuzeichnen. Dabei sollen herausragende Doktoranden für Öffentlichkeit und Arbeitgeber sichtbar gemacht und Beziehungen zwischen Wissenschaft und Industrie im Bereich der Test Technologien geknüpft werden.
Der Preis wird an den Gewinner des zweistufigen Wettbewerbs vergeben. Die Sieger im Halbfinale treten im Finale nochmals gegeneinander an. Dort entschied eine Jury aus Experten der Industrie (u.a. ARM) und führenden Universitätsprofessoren über den 1. Platz. Hierzu begutachteten die Universitätsprofessoren zunächst den wisschenschaftlichen Gehalt der Arbeit. Anschließend wurde den Industrievertreten die Arbeit vorgestellt und Fragen zum praktischen Einsatz beantwortet.