25 Jahre für die Informatik
Professor Heinz Wörn darf feiern. Am heutigen 19.01.2016 kann er auf ein Vierteljahrhundert Arbeit und Karriere im öffentlichen Dienst und an der Fakultät für Informatik zurückblicken. Zum 25-jährigen Jubiläum gratulierte Dekan Prof. Hannes Hartenstein und überreichte für seinen Verdienst eine Dankesurkunde.
Heinz Wörn, Jahrgang 1948, studierte von 1967 bis 1973 Elektrotechnik an der Universität Stuttgart. 1978 promovierte er, ebenfalls in Stuttgart, zum Thema "Beitrag zur Struktur und zum Aufbau modularer Steuerungssysteme mit standardisierbaren Schnittstellen". Anschließend leitete er 18 Jahre lang die Entwicklung der Automatisierungstechnik für Roboter bei der KUKA Roboter und Schweißanlagen GmbH.
Seit seiner Berufung als Professor an die Universität Karlsruhe 1997, dem heutigen Karlsruher Institut für Technologie (KIT), ist er Leiter des Instituts für Anthropomatik und Robotik im Bereich Intelligente Prozessautomation und Robotik. Sein Forschungsschwerpunkt liegt auf der Steuerung und Regelung für Robotersysteme, der Industrie- und Mikrorobotik als auch auf der roboter- und sensorgestützten Chirurgie.
Neben der Forschung übernahm er von 2008 bis 2012 das Amt des Dekans der Fakultät für Informatik. Prof. Wörn ist zudem wissenschaftlicher Beirat der Deutschen Gesellschaft für Computer- und Roboterassistierte Chirurgie (CURAC), der er zuvor als Präsident vorstand, wissenschaftlicher Beirat der Georg-August-Universität Göttingen und der Universität Siegen und Editor der Fachzeitschrift "Journal of Robotics".
Zu seiner Karriere an der Fakultät für Informatik gehören auch mehrere Best Paper Awards, die zweifache Auszeichnung mit den Roboterinnovationspreisen "Invention and Entrepreneurship Award in Robotics and Automation" vom Institute of Electrical and Electronics Engineers (IEEE) und "Walter Reis Innovation Award for Robotics", die Ehrendoktorwürde an der Staatlich Technischen Universität und Ufa, Russland.
Wir bedanken uns herzlich für sein Engagement und seine Erfolge in den letzten 25 Jahren für die Informatik und wünschen ihm auch weiterhin alles Gute für die Zukunft.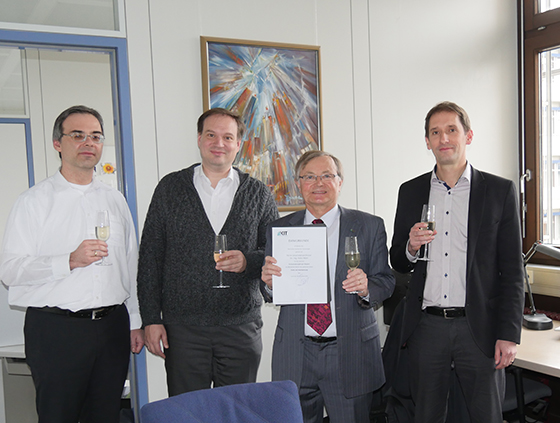 Der Fakultätsvorstand gratuliert dem Jubilar (v.l.: Prof. Bernhard Beckert, Prof. Ralf Reussner, Prof. Heinz Wörn, Prof. Hannes Hartenstein) (Bild: KIT)