Neue Richtungen in der technischen Informatik
Dr. Rajendra Bishnoi wird für seine herausragende Dissertation geehrt.
KIT-Informatiker Rajendra Bishnoi wurde von der European Design & Automation Association (EDAA) für seine Dissertation mit dem Outstanding Dissertation Award 2017 ausgezeichnet. Er erhielt den Preis während der DATE 2018 Konferenz vom 19.-22. März in Dresden in der Kategorie "New directions in logic, physical design and CAD for analog/mixed-signal, nano-scale and emerging technologies".
Seine Dissertation fertigte Rajendra Bishnoi am Institut für Technische Informatik am KIT an. Am Chair of Dependable Nano Computing (CDNC) wurde er während seiner Promotion zu "Reliable Low-Power and High Performance Spintronic Memories" von Prof. Mehdi Tahoori betreut. Er arbeitet weiterhin innerhalb der Forschungsgruppe mit persönlichen Schwerpunkten in den Bereichen der Spintronic Technology, Low-power Design und Hardware Sicherheit.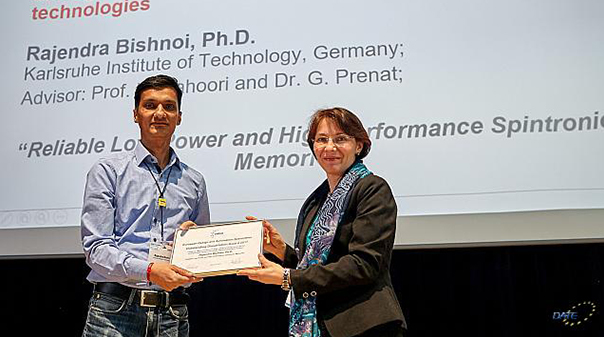 Die European Design & Automation Association (EDAA) ist eine gemeinnützige Organisation, welche die Auszeichnung jährlich in vier verschiedenen Kategorien verleiht. Ziel ist es, die Arbeit junger Wissenschaftlerinnen und Wissenschaftler innerhalb dieser Felder zu fördern. Der "Outstanding Dissertation Award" ist mit einem Preisgeld von 1.000€ dotiert. Der Award ging zuletzt im Jahr 2010 an eine Dissertation innerhalb der KIT-Fakultät für Informatik.