Der Informatik über 4 Jahrzehnte treu
Der Informatik über 4 Jahrzehnte treu
Fakultät für Informatik feiert das 40-jährige Dienstjubiläum von Prof. Walter F. Tichy
Mit dem Betreten des Fakultätsgebäudes am 4. Februar 2015 kann Prof. Walter F. Tichy auf nun runde 40 Dienstjahre zurückblicken. Zu diesem besonderen Anlass würdigte Dekan Prof. Michael Beigl Tichys Arbeit an der Fakultät für Informatik und überreichte ihm außerdem eine Urkunde des Landes Baden-Württemberg.
Walter Tichy studierte Informatik bis zum Vordiplom 1974 an der Technischen Universität in München. Danach schloss er das Studium an der Carnegie Mellon University in Pittsburgh ab und erlangte dort 1980 den Doktorgrad. Während der fast sechs Jahre seiner Juniorprofessur an der Purdue University in Lafayette entwickelte er das Revision Control System (RCS), für das er unter Softwareentwicklern bekannt ist.
Heute kann Prof. Walter F. Tichy auf eine fast 30-jähige Professur an der Universität Karlsruhe, dem heutigen KIT, zurückblicken. Er leitet den Lehrstuhl Programmiersysteme und ist Mitglied der kollegialen Leitung des Instituts für Programmstrukturen und Datenorganisation an der Fakultät für Informatik, der er von 2002 bis 2004 auch als Dekan vorstand. Seit 1991 ist er außerdem im Direktorium des Forschungszentrums Informatik (FZI).
Tichy ist Gründer des Education Support Centre Deutschland (ESCde), das im vergangenen Jahr bereits sein 20-jähriges Bestehen feiern konnte.
Mit dem Titel "Distinguished Scientist" prämierte die weltweit größte Informatikgesellschaft, die Association for Computing Machinery (ACM), seine Forschung in der Softwaretechnik und Parallelverarbeitung auf Weltniveau. 2012 wurde er für seine Leistungen im Bereich Software Engineering von der ACM zum Fellow ernannt. Anfang 2013 erhielt Prof. Walter F. Tichy ebenfalls den ACM SIGSOFT Impact Paper Award für seinen Artikel "Design, Implementation, and Evaluation of the Revision Control System".
Im Namen der Fakultät für Informatik gratulieren wir Prof. Walter F. Tichy ganz herzlich zum 40. Dienstjubiläum und bedanken uns für seinen Einsatz und die vielen Verdienste um das KIT und die Informatik.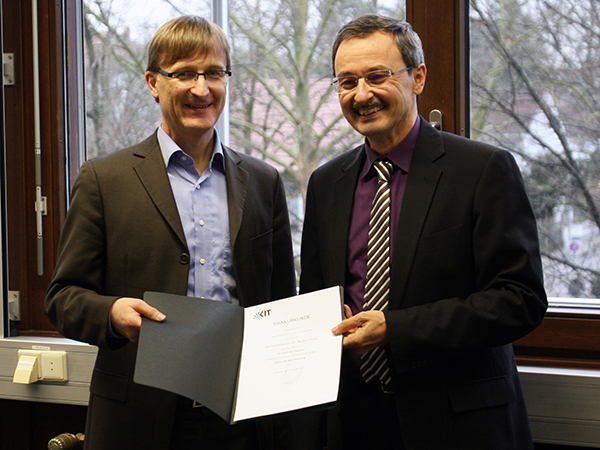 Dekan Prof. Michael Beigl (li.) überreicht die Dankesurkunde an Prof. Walter F. Tichy.