Erfolgreicher Kickoff
Die frisch gegründete C++ User-Group Karlsruhe stößt auf große Resonanz.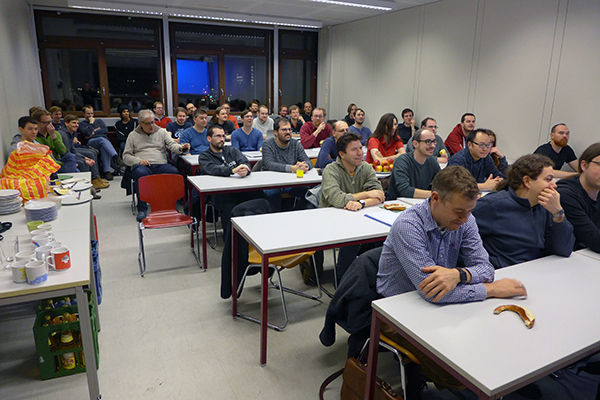 Über 50 C++-Begeisterte haben das Kickoff-Treffen der C++ User-Group Karlsruhe besucht. Zunächst wurde über die Ziele der User-Group gebrainstormt. Im Anschluss hielt Rainer Grimm einen Vortrag zum Thema funktionales Programmieren mit modernem C++. Der hervorragend aufbereitete Vortrag deckte sehr viele Aspekte ab. Die User-Group hat noch lange anregend diskutiert, danach wurde in lockerer Runde noch bis Mitternacht gefachsimpelt.
Die C++ User-Group Karlsruhe ist für alle C++-Enthusiasten. Ziel ist es, Erfahrungen auszutauschen, auf Gleichgesinnte zu treffen und Spaß zu haben. Die Mitglieder treffen sich jeden zweiten Mittwoch im Monat ab 19:30 Uhr im Informatik-Gebäude (50.34; Am Fasanengarten 5; 76131 Karlsruhe) des Karlsruher Institut für Technologie. Der Besuch ist kostenlos und es sind sowohl Berufstätige als auch Studierende herzlich willkommen. Auf den kommenden Treffen wird es ab circa 20 Uhr einen Vortrag, ein Coding Dojo oder ähnliches zu einem C++-Thema geben. Im Anschluss daran finden Diskussionen statt.
Auf den nächsten drei Treffen sind folgende Events geplant:
8. Februar: Test-Driven Development (Workshop mit Code-Dojo von Dr. Michael König)
8. März: C++ Goodies: Move Semantics for Dummies, Variadic Template Parameter Packs, Refactoring with CRTP, Random Bits of Thrill (Vortrag von Dr. Timo Bingmann)
12. April: Test-first und SOLID Prinzipien (Code-Dojo von Eduard Ruffert)
Auch Vorschläge für eigene Vorträge oder Coding Dojos sind gerne gesehen. Wer Ideen oder Fragen hat, kann sich gerne mit der User-Group in Verbindung setzen.
Die Besucher des Kickoff-Treffens waren alle sehr begeistert über die C++-User-Group. Einige von ihnen wünschen sich noch häufigere Treffen. Die User-Group bedankt sich herzlich für den regen Besuch auf dem Kickoff-Treffen und die vielen Anmeldungen. Die User-Group hat jetzt bereits über 90 Mitglieder.
Bis zum nächsten Treffen!
Die C++ User-Group Karlsruhe